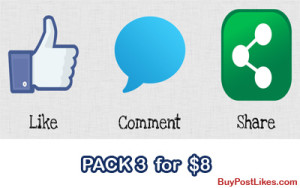 Order Facebook like comment share pack 3 and boost your Facebook post or photo.
This is one of the useful services we are providing. Each time once users click the like button or comments and share on your content, information about website, product etc. is shared with their friends, which can lead to a lot of traffic. And of course, it'll look very natural and effective. Buy this plan and be Popular & Increase Your Social Presence.
Advantages of having this package:
• This service enhances your company or brand to become the middle of attention within the FB.
• More number of likes comments share on your content can help to growing your business opportunities.
• We offers your the best packages of all in one service that boost your photo or post likes in a very natural manner.
• If you have lot of activity in your content than it will look attractive and help to create your company or brand well-liked in spite of geographical boundaries.
Note- For this service your post or photo should be public and comment option should be enable.
If it's not go to following link- http://facebook.com/settings?tab=followers
And select everybody in "Follower Comments" option
Like Comment Share Pack 3
Price : $8.00
100 post or photo likes
8 comments
50 share
100% Real Facebook Users
Deliver Within 12 hours
---
Pay Via PayPal invoice
Click Send Me Invoice and send us your link. Your order will be completed as soon as possible. Also PayPal Invoice will be sent, you can pay after order completion.
---